PC Based CNC Controller For The Machine Tool CNC Retrofit And CNC Controller OEM market
---
The Ultimate User Interface * For Power, Price and Ease of Use
Want A Faster, Less Expensive way to do more?

The CNC machine types supported are Mills, Lathes, Routers, Water Jets, Lasers, Punch Presses and EDMs. We offer a full range of prices and features. We have something for everyone and every application. In business since 1981, CamSoft's 7,000 clients include America's largest corporations, government facilities and universities worldwide.

Your visit to our web site will show you that we are not only a contender but an industry leader. Our long company history and expertise are a factor. Check it out for yourself. You may request selected e-mails that will educate you on our products. Everything from using your own Windows-based PC with our low-cost hardware/software kits to ready-to-go CNC enclosures, handheld pendants and floor models for every type of machine tool.
---
Multimedia CAD/CAM Software for 2-5 Axis, 2D & 3D CNC Machining

CamSoft developed the first micro-based CAD/CAM system for national sale in 1976. Our latest CAD/CAM system is entitled Advanced System 3000 Multimedia CAD/CAM for Windows. AS3000 was designed for machinists by machinists.

Advanced System 3000 Multimedia CAD/CAM for Windows

For Mills, Lathes, Routers, EDMs, Flame Cutters, Lasers, Water Jets and Punch Presses. Five Levels to choose from.

This hands-on experience in machine shops gave the designers the perspective needed to include unique features such as multiple surface machining, a true CNC editor (not a word processor), over 200 ways to define geometry, solid model printouts to your laser printer or plotter, communications with 82 machine tools with unattended remote access from your machine, multi-layered view ports, real-time part animation, customizable post processors for 700 machine tools, splining, artificial intelligent tool driving, a "build-your-own-new-feature" utility and many other 3D and 5-axis features.
---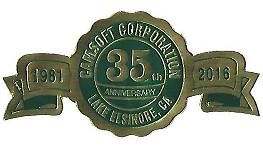 We now have both German and Spanish speaking engineers.