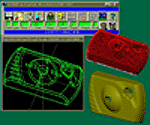 AS3000 V8.9
Multimedia CAD/CAM for Windows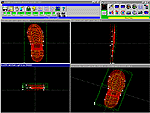 Multiple Viewports
Simultaneously view your part in different planes


AS3000 - Introduction

Advanced System 3000 V8.9 Multimedia CAD/CAM System for Windows




Available in 32 or 64 bit


is a true Windows-compliant CAD/CAM program that runs under Windows 98, SE, Me, NT, 2000, XP, Vista, 7, 8, and 10. Advanced System 3000 was designed for ease of use by machinists and operates in a multitasking environment. One click of the mouse gets you to practically any feature. You can quickly design 2 to 5 axis part geometry, including multiple surfaces, within its large database or import DXF, I.G.E.S., CDL, Gerber, HPGL, CATIA CL, APT or existing machine code files. Using a Pentium or higher based computer, you can create CAD/CAM graphic part images then download the auto-generated part programming code directly into the machine tool. The basic system is a low-cost package with numerous features capable of creating 3D wireframe geometry. Other AS3000 system levels include support for 3, 4 and 5 axis machines, surface building, cutter animation & simulation and Parametric Programming for creating "family of parts" and other specialty routines.