Standalone Raster 2 Vector converter
Raster2Vector converts Bitmaps, Jpeg, TIF and PCX graphic files to DXF files or vector files consisting of lines, arcs and circles. Now files produced by your scanner software or raster image editing programs can be converted to vector files DXF or TXT. Advanced settings let you control the way the images will be converted. Once created, the DXF file can be used in any of a number of various programs that read standard AutoCAD DXF files including Advanced System 3000.
Raster2Vector is extremely easy to use. When the program comes up, there's only one screen... and it's preset and ready to go! All the user needs to do is provide the file name to open and the DXF or TXT file is quickly created.
Features
Opens Bitmap files
Opens Jpeg Files
Opens Tif Files
Opens PCX Files
Save as DXF File
Save as Text File
Outline Outside Of Raster Images
Create Center Line within Raster Images
Control Angle Of Lines When Creating Centerline
Several Control Settings To Adjust The Conversion Process
Runs on Windows
Price $199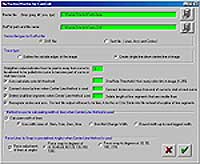 [click to enlarge]